The library administration is an interface specific to each library. Library administrators can access it to configure library settings and manage daily activities in the library.
Note: AODocs super administrators can access all library administration interfaces.
The library administration interface has the following sections:
---
Library configuration section
Under Library configuration, you have access to:
General settings: You can edit the title, image and description of the library.
Learn more: Customize your library homepage.


Document classes: To create or import documents in your library, you must configure a document class. Document classes can be used to differentiate documents from the same library. 
Learn more: What are document classes?


Categories: A category is a property type with a predefined set of possible values. You can list and configure the possible values of categories.
Learn more: What are categories?


Views: You can configure the list of documents, properties, and filters by configuring the views.
Learn more: What are views?


Relations: You can link documents with each other and display related documents in the document's properties panel. Related documents can be of the same or a different document class. 
Learn more: Configure relations.


Roles: You can configure roles that can be used to set permissions and notifications.
Learn more: What are roles?


Workflow: You can configure workflows to define the transitions and states of the documents.
Learn more: What are workflows?


Emails: You can use AODocs to transform emails into documents.
Learn more: Configure emails to documents


Custom scripts: You can run custom scripts using the library configuration section.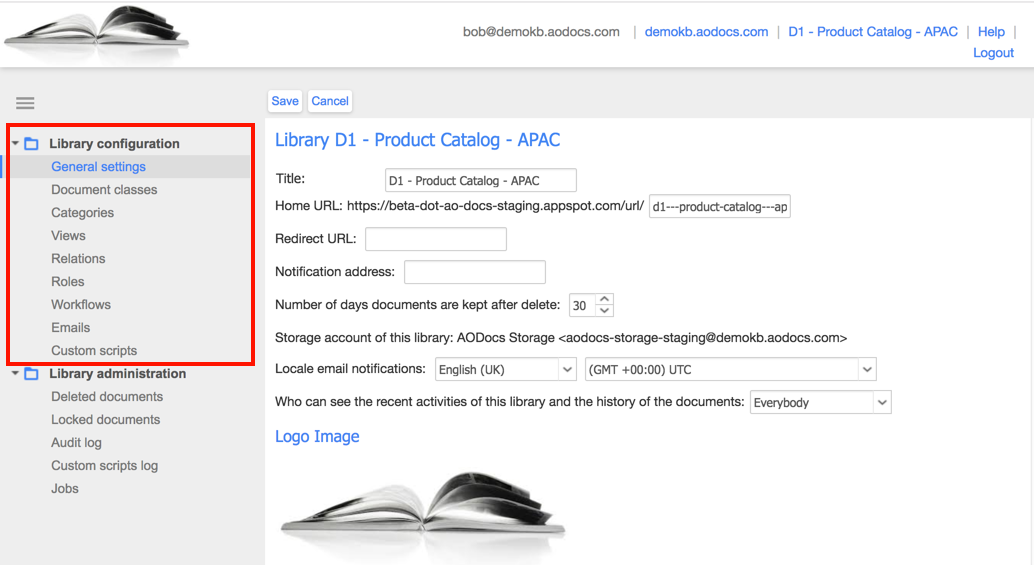 ---
Library administration section
Under Library administration, you have access to: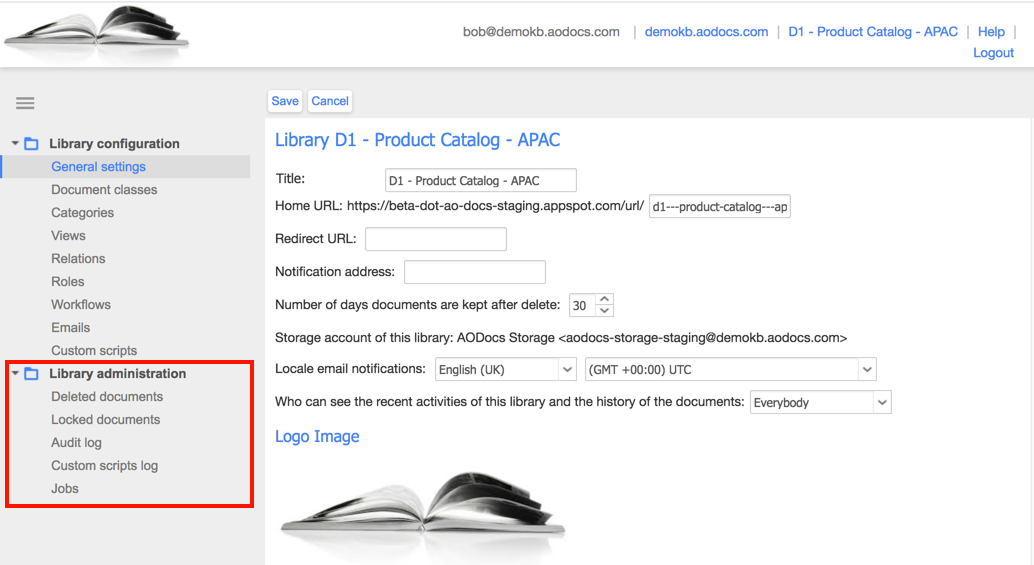 ---
Library administration header
In the library administration header, you have access to:
Domain administration
You can switch the AODocs domain and choose from all the domains you can access with your account.


Library actions
You can:

go to the General settings under Library configuration
open the library homepage
Use the drop-down menu to select the library administration of another library where you are an administrator



Help 
You can:

open the Knowledge Base
open a support ticket
view details of your current AODocs version



Logout 
You can log out of AODocs. This also logs you out of your Google account and all sessions associated with your account, for example, Gmail and Google Drive.  

---
Quick Help widget
The Quick Help widget allows you to access articles from the AODocs Knowledge Base directly from the library administration interface. You can also contact AODocs support directly in this interface.