Team Folder libraries are visible in Google Drive and owned by your company.
End-users can share files and folders in Team Folders using the standard Google Drive share features. Learn more from the Google Help Center:
The AODocs Smartbar brings additional share features for library administrators if the following security settings are defined in the Team Folder:
Assuming you're an administrator and you have these security settings defined in your library, this article explains how to:
---
Share files or folders from Google Drive
1. Select the item you want to share and press Edit file permissions.
2. In the Sharing settings pop-up, select who you want to share the files with.
Note: Depending on the Google Drive sharing policy defined by your G Suite administrator, you may not be able to share files outside your domain or organizational unit. 
3. Set the permission for the users you have chosen:
Can view
Can edit
Can comment
4. Press Done.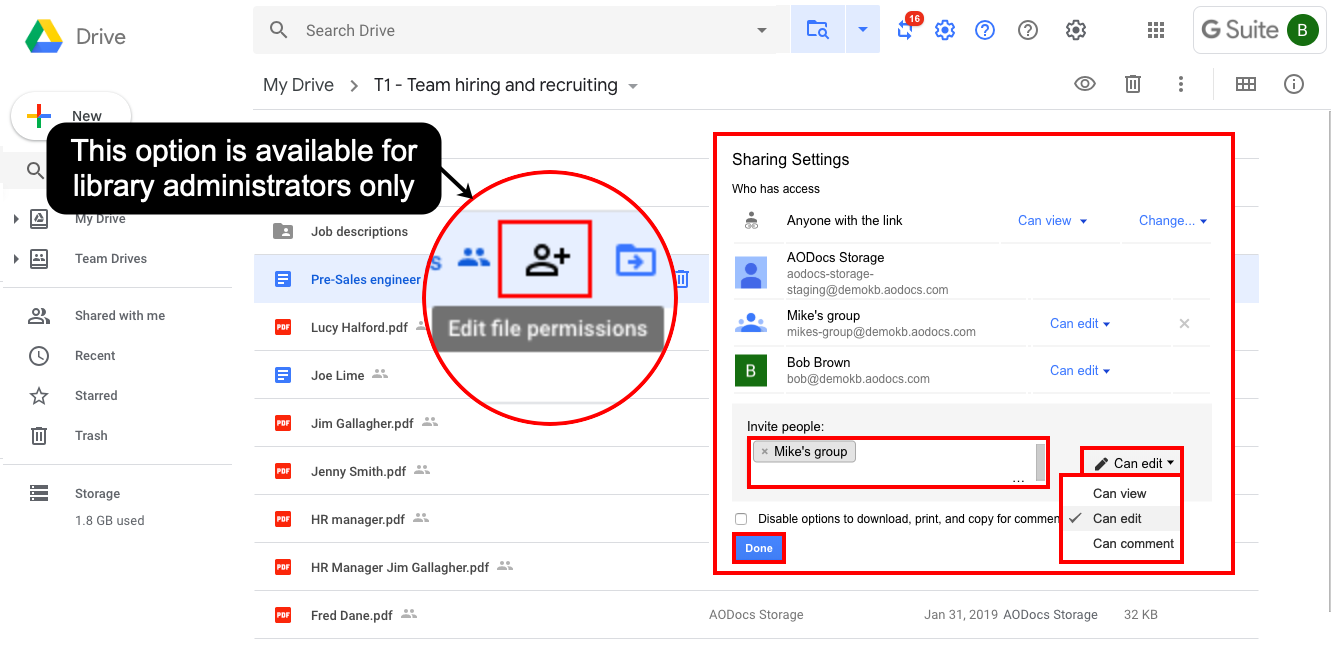 ---
Share Google files from the Google editor
1. Open a Google file.
2. Once the Smartbar is loaded, press Share in the top right of the screen.
The Sharing settings pop-up opens.
Note: Only library administrators and the owner of the document can add people in the Sharing settings popup. Other users must ask the owner to change the sharing settings.

---
Share files from the Google Drive file preview
1. Open a file in the Google Drive file preview and select Permissions in the Smartbar menu.

The Sharing settings pop-up opens.