Hi all,
We're pleased to announce a new version of Bulk Updater!
First time you're using Bulk Updater? Discover how to use it in our Knowledge Base!
As you may know, this useful software remains in beta version. We're making lots of changes to meet your needs.
You'll find below the list of improvements and bug fixes in this release. Don't hesitate to relay the information to your customers.
New UI
Overview
To improve your experience, the web application is now composed of three pages:

Create export:

The form to configure the export.

Update:

List of latest exports waiting to be edited in spreadsheet.

Run update after edition ins spreadsheet.

List of latest "update" results.

Recent exports
Create export
This page contains the same functions as before this release but we've added filters, splitters and a count of the number of documents to export (for more details see New features).
You can now count the number of documents in the export before launching it!
(in some cases, as in AODocs views, the count may be an estimation)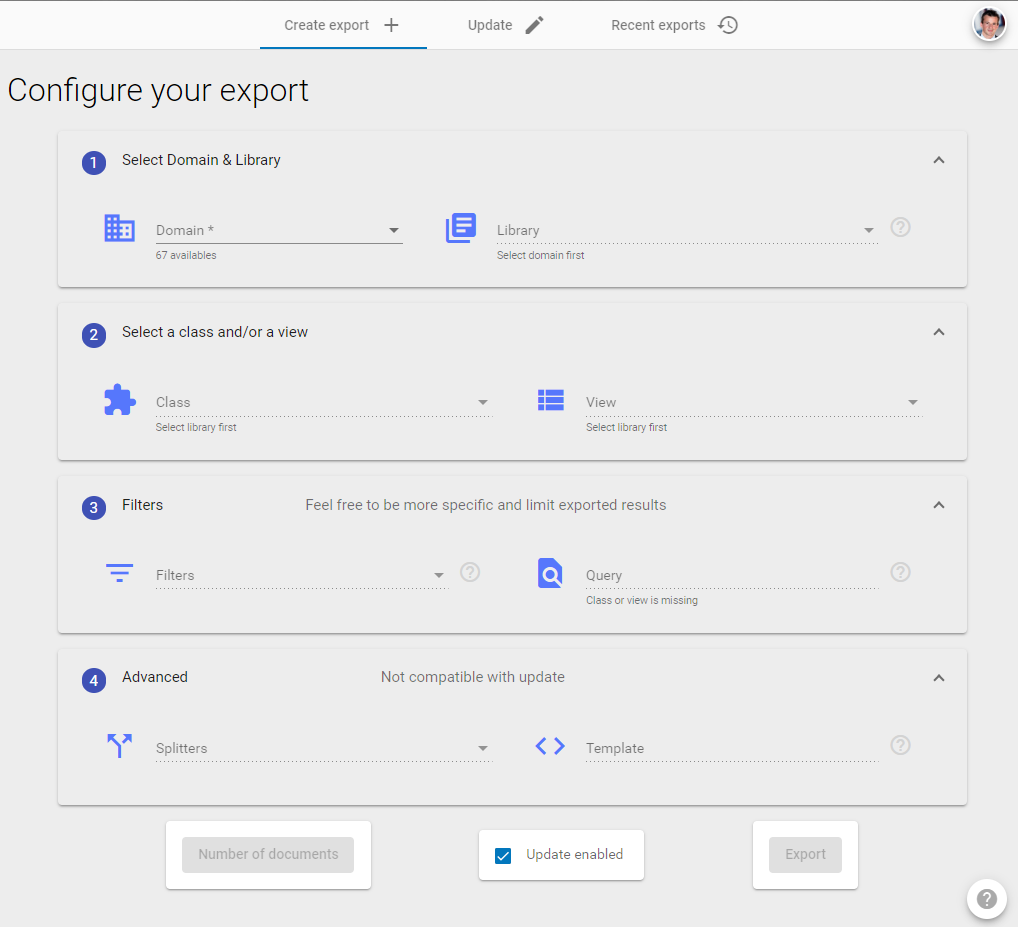 This page supports URL parameters such as domain, library, class and view. You can copy-paste the URL of this page to share it with other people.
Update
This page contains the filtered list of exports with the update feature available. You can view the exported main configuration, open the generated spreadsheet and run the update (this is same action as the update in the spreadsheet).
From the Update page, you can now run updates on your exported spreadsheet without a consent appscript:
Click the icon in the

Update

column.

Choose whether to keep the previous modification date.
Note: It's not yet possible to edit attachments.
Within 5 seconds, your update is displayed in the section

Your latest updates

.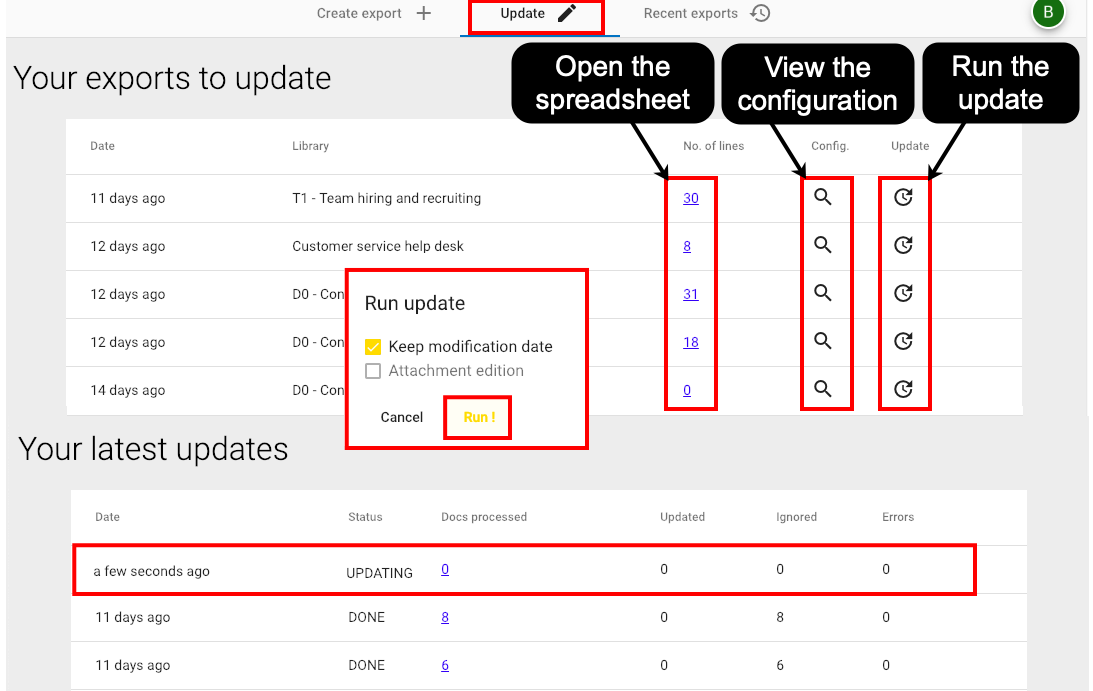 History
This page lists all exports and updates with their status, number of documents and other details.
New features
Disable update operation
You can now exportwithout updating. This means that you can:
create and share exports without updating

access advanced features not compatible with updating documents
Filters
You now have access to predefined filters:
Skip documents directly under the root folder

Skip documents without attachments

Note: The filter Skip documents without attachments is available only if you selected a document class.
You can combine filters with a custom query, which can be applied if you selected a document class or a view.
A link to the AODocs Knowledge Base was added.

Splitters
You now have access to split functions with the options shown below.

Choose:
One line per version

: to generate as many lines as each document has versions

One line per attachment

: to generate as many lines as each document has attachments
Note: These advanced features are available only when the update feature is disabled because splitting can result in multiple lines for a given document.
If you have any feedback or issues, please reply to this email and let us know!
Thank you in advance and enjoy this new version! We look forward to hearing what you think.
The Bulk Updater team :)