AODocs Mail Sender is a Google Chrome extension. It's used to send AODocs documents to users by email. Recipients can be users on your domain or external users. You can send documents from any type of AODocs library: Team Folders, Secured Folders and Document Management libraries. 
Important: You must be an administrator of your library to use AODocs Mail Sender.
Install the AODocs Mail Sender app
1. Follow the link: https://chrome.google.com/webstore/detail/staging-aodocs-mail-sende/gbfnpaehipeplbiebloeoomeebblnmab 
LINK IS TO STAGING. ADD CORRECT IMAGE. 
WON'T INSALL FOR BOB - PERMISSIONS PAGE DOESN'T APPEAR. THEN MESSAGE SAYING IT'S INSTALLED (BUT IT ISN'T). THEN LINKS TO AODOCS.COM.
2. Press Install app.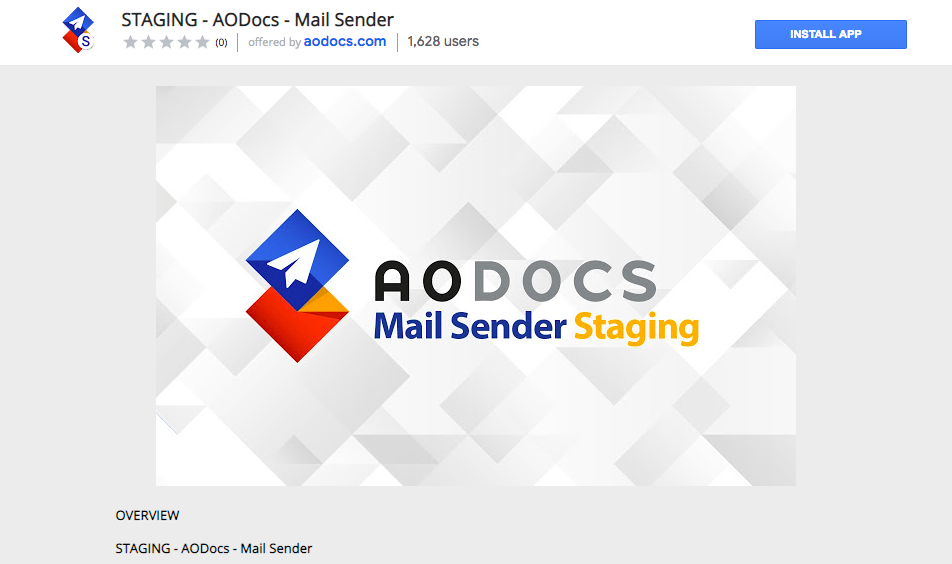 Create a Custom Script
To plug an AODocs library to this service, the better way is to start from an example custom script.
BETTER THAN WHAT?
Configuration
At the top of the example Custom Script there is required import, please copy-past them in your library configuration. Once added to your library, you can configure this CustomScript depending on your aim.
In the retrieved CustomScript there is sample of different way to configure call to the API of AODocs Mail Sender. There is 4 ways:
Set static values (like

url

,

fromEmail

)

Get values  from the variable

document

(like

body

)

Get values from the document's fields (like

subject

,

Recipients)

Set to

null

to use default values (like

pdfHeader

,

pdfFooter

,

pdfWatermark

,

etc

.)
Authorization
AODocs Mail Sender uses the permission of the user who executes the Custom Script. To grant more permissions, run the script As Administrator. This can be useful if the setting Prevent viewers from downloading, copying and printing is applied to the library.