Dear Smartbar users,
We're pleased to announce a new version of the Smartbar extension (11.0).
With this release, you can import email attachments as a zip archive when importing an email into AODocs from Gmail.
Fewer attachments when you import an email into AODocs
We added a zip option, so you can easily package the email attachments to save in AODocs when importing an email. Only the selected attachments are added to the zip archive.
This reduces the number of documents created, especially when you import into Team Folders or Secured Folders.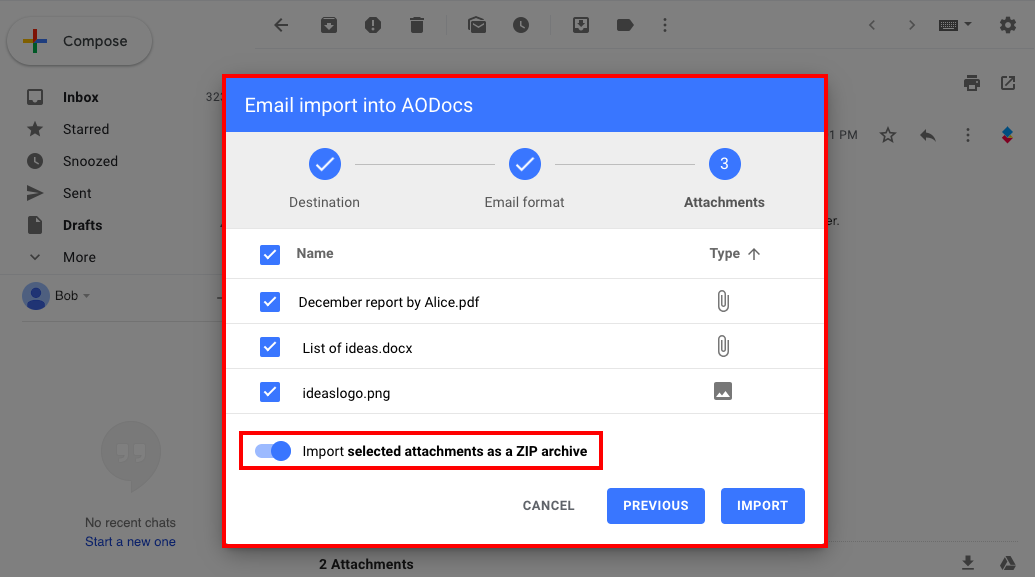 When you import into:
Team Folders or Secured Folders

: the zip archive becomes a single AODocs document in the folder created for the import

Document Management libraries

: the zip archive becomes an attachment of the AODocs document created for the import
Bug fixes
We made some visual improvements to the editor interfaces to be consistent with Google's visual improvements. In particular, the color of the

Share

button has changed in the Google Sheet and Google Slide interfaces.

The breadcrumb is now displayed immediately after a Google Doc is imported.

You can now change a Team Drive theme using a custom theme when the Smartbar is activated.
What's next?
For the next releases, we're still working on improving the Smartbar in Gmail feature. To import entirely configured AODocs documents at the correct location, you'll be able to:
define the document class and template to use

choose a subfolder when importing into AODocs Document Management libraries

import into Team Folders or Secured Folders without creating an export folder
Launch details
Version 11.0 will be progressively rolling out on 26 February 2019.