The AODocs Smartbar is a Chrome extension that brings AODocs features directly into your Google Drive and Gmail interface.
In Google Drive, files and folders managed by AODocs are detected by the Smartbar and additional features are added to your Google Drive as additional buttons.
In Gmail, the Smartbar allows you to import emails from Gmail to an AODocs library.
Learn more: What is the AODocs Smartbar?
This article is for end-users who want to install the Smartbar on their computer.
Important:
- You need to be logged in to your Google account and have the permission to install extensions on your computer.
- You must be using one of the latest five stable versions of Google Chrome. For example, if the latest stable Chrome version is 58, you need Chrome version 54 or above. 
Learn more: Download and install Google Chrome and System and browser requirements.
- Some organizations don't allow their employees to modify their own Chrome browser configuration. In this case, contact your administrator to ask for the installation.
Note: If you're an administrator of your domain, learn more about how to deploy Smartbar on your domain.
This article explains how to:
---
Install the AODocs Smartbar
1. Open AODocs Smartbar for G Suite on the Web Store of your Google Chrome Profile.
2. Press the Add to Chrome button. A confirmation pop-up opens.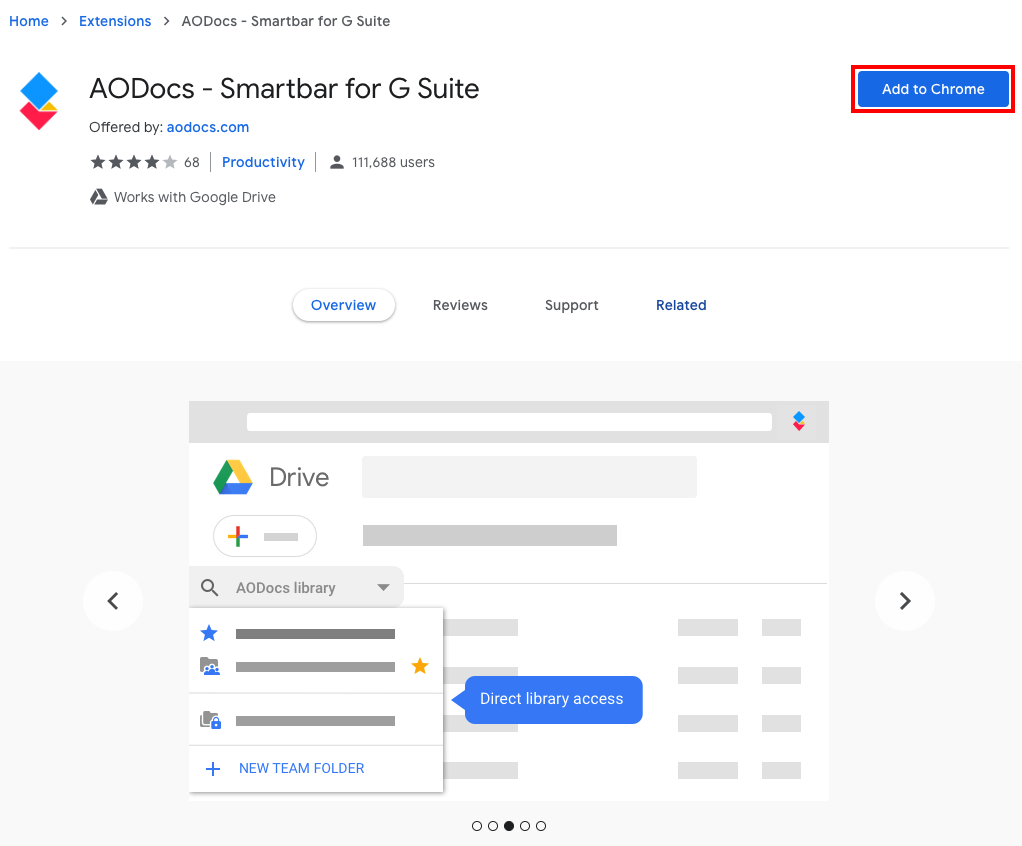 3. In the confirmation pop-up, press the Add extension button.

4. Wait for the installation to complete.
A message appears under the extension button to confirm that the installation is complete and that the extension has been successfully added.

---
Enable AODocs Smartbar features in different Google Services
Note: If your administrator has deployed Smartbar permissions on your domain, you don't need to run this procedure.
The first time you access Google Drive or Gmail after installing the Smartbar, a pop-up AODocs Smartbar — Request permissions opens. This is where you define where the Smartbar features can be enabled.
1. In the AODocs Smartbar — Request permissions pop-up,
select the option Access your email content to import into AODocs option to authorize the Smartbar to work in your Gmail interface
unselect this option to disable the Smartbar features in your Gmail interface
Learn more:
Note: The option Access your Google Drive files is selected by default, so you can use AODocs from Google Drive and Google editor pages. You can't unselect this option.
2. Press Allow.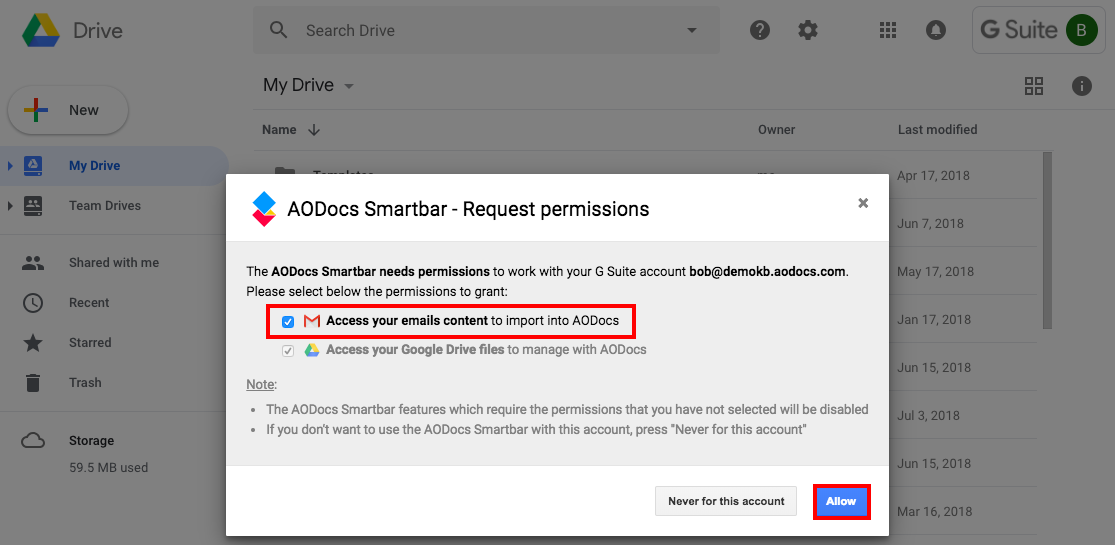 3. The permissions required by AODocs to interact with Google Drive (and Gmail if you checked it) are listed. Press Allow.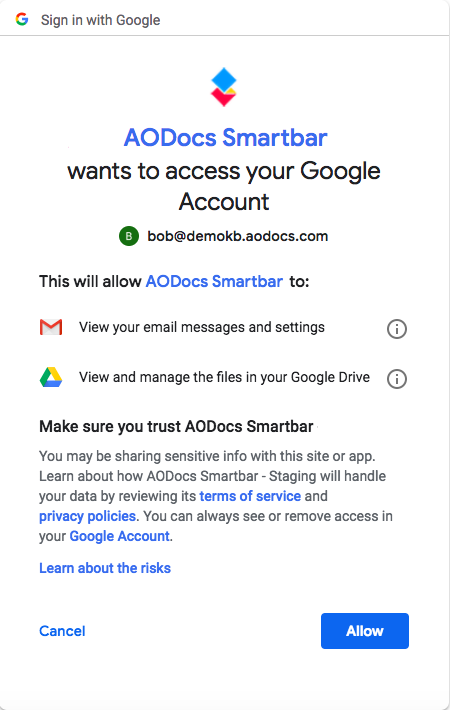 Note: If you're in Google Drive, the Smartbar discovery tour launches automatically.