Bulk Updater is a web application that allows you to update in bulk the properties (also called metadata) of your AODocs documents.
Bulk Updater requires two sets of permissions from the user.
When you access Bulk Updater the first time, AODocs requests permission to view and manage your spreadsheets in Google Drive. This allows Bulk Updater to synchronize your spreadsheet with your AODocs library.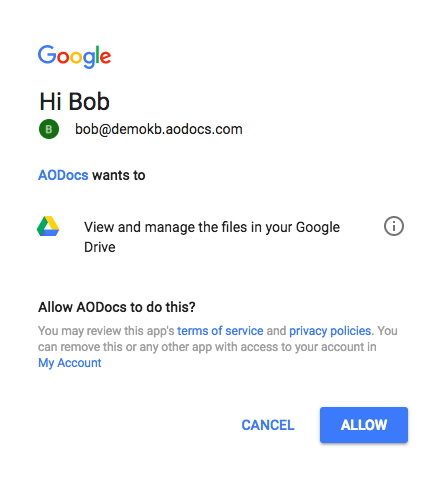 When you open the sidebar to launch the update from Google Sheets, AODocs requests the following permissions:
| | |
| --- | --- |
| View and manage spreadsheets that this application has been installed in | Bulk Updater needs to read and update information in the exported spreadsheet. |
| Display and run third-party web content in prompts and sidebars inside Google applications | Bulk Updater needs to render the custom sidebar and dialogs in Google Sheets. |
| Allow this application to run when you are not present | Bulk Updater needs to run even if you quit the spreadsheet. |
| Connect to an external service | Bulk Updater needs to update documents in AODocs. |