Bulk Updater is a web application that allows you to update in bulk the properties (also called metadata) of your AODocs documents. Only library administrators and super administrators can use Bulk Updater.
You can view your list of recent exports at any time. After configuring and running an export, you're directed to the Recent exports tab.
In your list of exports, you can view:
the type and status of the export:


| | |
| --- | --- |
| | Export in progress |
| | Export with update enabled |
| | Export with update disabled |
| | Export with one or more errors |
the date you ran the export
the library selected for your export
the class and view (if selected for your export)
the number of lines in your export spreadsheet - press to open the spreadsheet.
Press the Config button to access details about the configuration of any export. You can open the spreadsheet from the configuration pop-up.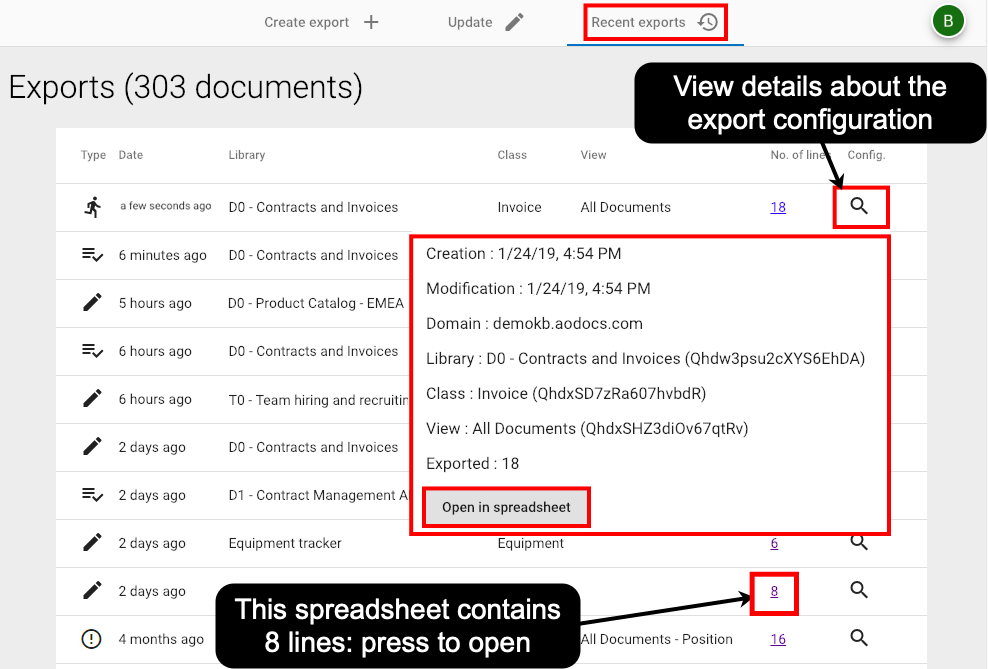 If you selected Enable update when you ran your export, you can now:
1. Access the spreadsheet from the Recent exports tab or the Updates tab.
2. Edit the properties of your AODocs documents in your spreadsheet.
3. Run the update.